The daytime book club meets on the 2nd Thursday of the month at 10.30am.
The next meeting will be 9th May 2019
                                      This month the book is: A Quarter Past Dead by T P Fielden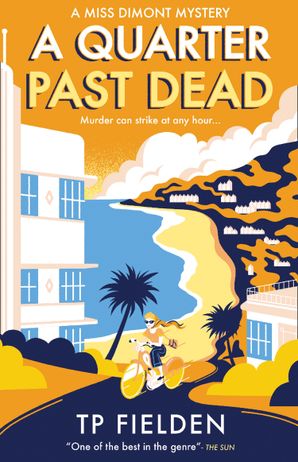 Murder can strike at any hour…
It's the late 1950s in tranquil Temple Regis, Devon.
For holidaymakers it's a glorious time of breathtaking scenery, picnics on beaches, and flocks of tourists on their summertime holidays.
But for Miss Judy Dimont, this is all a trifle dull. As a reporter for local rag, The Riviera Express, she needs scandal and intrigue – and one morning, as the clock strikes the quarter hour, she gets it. A woman has been shot dead in one of Buntorama's upmarket holiday huts, the toffee-nosed rival hotelier next door is rubbing his hands with glee, and Judy and her trusty moped Herbert are off like a shot to survey the scene of the crime.
But nobody can tell her who the dead girl is and there's no clear motive. To have a story to write, Judy must solve the case – and the intrepid Miss Dimont will leave no pebble unturned until the truth is out!
If you wish to join our book club please contact us on 0161 747 7442 or email                         books@urmston-bookshop.co.uk  or call into the shop – we would love to meet you!